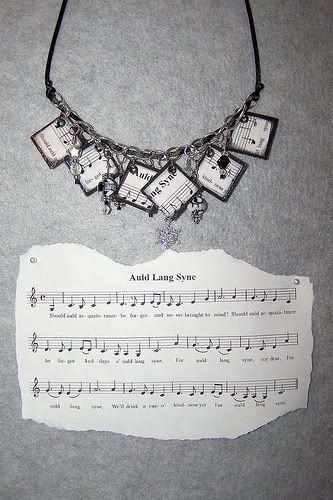 This is my entry for the Craftster Sheet Music Challenge. I think the deadline is tomorrow and then voting begins. The challenge was to use sheet music in a creative way.
You can see it here: http://www.craftster.org/forum/index.php?topic=217249.0
Having just completed my inchie swap, I wanted to make inchie charms from sheet music for the song Auld Lang Syne. I like that song, and had recently read an article about it's history and with it being the new year I thought it would be a good choice.
I had originally planned to do a bracelet, but once I started I knew it was meant to be a necklace. I made beaded dangles with glass beads and Swarovski beads, used silver chain, black cord and a snowflake charm. I'll post more info about voting when it's set up and if you like it I'd love your vote!