Well, after that brief sewing break I am back to paper crafting =) I am doing the Chunky House Swap on Craftster and you can read more about it
HERE
, but basically it is like a chunky page, but in the shape of a house. I loved the Chunky Page Swap I did last year so I knew I had to do it, plus I'm such a sucker for swaps...We were put in groups of 5, you make 4 for others and one for yourself.
Lucky for me, I have a whole bag full of dollhouse windows, and doors etc. that my Mom gave me a while back, so I knew I would use them. Once I picked all the paper I wanted to use, I painted a window frame for each house.
I used scrapbook paper for the houses, it's a new line from K&Company called Que Sera Sera and it is GORGEOUS! See the line
HERE
So these are my finished houses, with all their embellishments, and paint and ink and buttons, and whatever else I could find: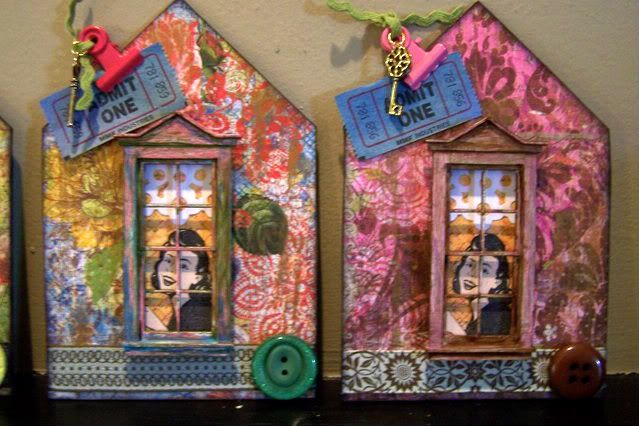 This is the whole development:
This is what the backs look like, each one has different paper. I used my Cricut to cut out the letters...gosh I love that thing!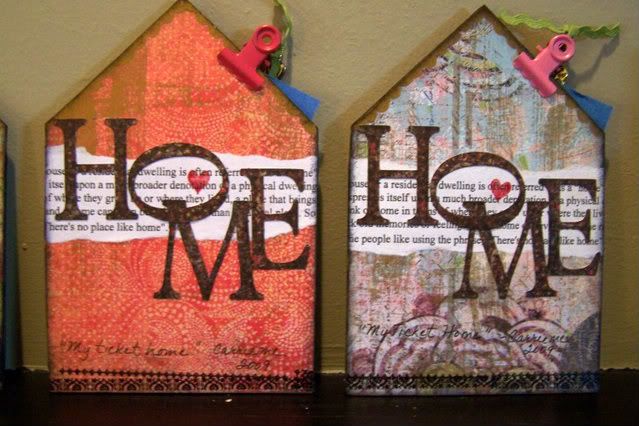 And here is a closeup of the happy lady smiling at you through the window:
I really hope my partners like them....I'm nervous!