I feel lazy today, rainy here, and a poor son with strep throat...so we are moving in slow motion. But I have been working on a few things. I just finished up 3 sets of valances for a client of a friend. I usually don't do things like that for hire, but in my usual fashion I couldn't say, "No." But now that it's done I'm happy and she's happy. That's all that matters right??
One thing I did recently was draw a "logo" for a scrapbooking club I am in, we call ourselves Scrappy Chicks. This is what I came up: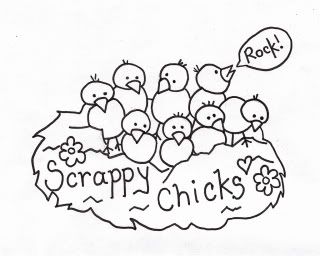 The group liked the finished logo so I think it's a keeper. =)
The creepy doll swap has ended for me. I received my last doll yesterday from Brazil (how awesome!!) and I LOVE her!!! This picture does not do her justice, she is so well made and I love all her seams and stitches. She even had a hand drawn card with her. What a great way to end this swap.
I am doing 2 more Craftster swaps for Christmas, the Stocking Swap, and Ornament Swap. My partner for the Stocking Swap is
STACY
who was my partner last year and we had an awesome swap. YAY!! Then my partner for the Ornament Swap likes 50's retro, pin up girls, pink and glitter, so that one will be sooooo fun too. I can't wait to start working on these.