I was feeling the need to make a new stuffie, so I thought why not an owl?? I love all the owls and birds you see everywhere right now in fabrics, paper crafting, clothes, jewelry, etc. I read or heard somewhere that in the crafting world, "birds are the new cupcakes"...and that is just fine with me, although I am and will always be a cupcake fan! =)
So I drew out a pattern, then enlarged it a little and tried to keep it simple, for quick and easy sewing. I dug out all my safety eyes, and fabric and wool felt scraps and "Voila!" some little Night Owl pillows were born!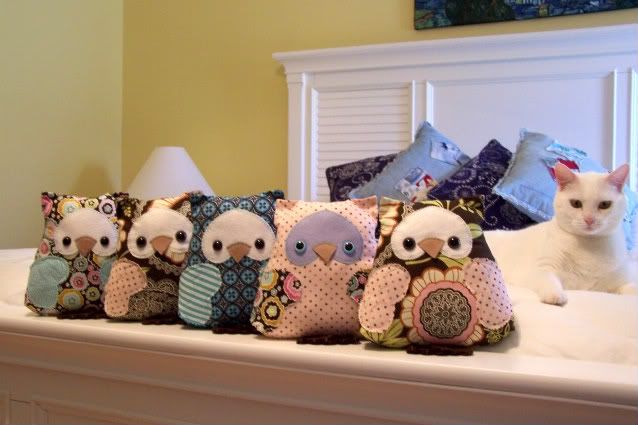 Now of course, while trying to photo them our cat Nani Cats had to get right in the middle of it. She's very nosey...I love this picture, she's perfectly in between the owls!
Here, she is trying to intimidate me to give her some treats in return for the successful photo shoot.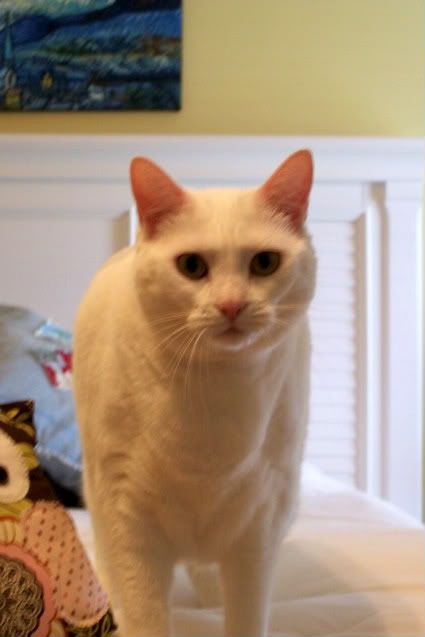 I'm a push over and she knows this...