Well, the Chunky Houses Swap on Craftster is winding down, and I have received all of my lovely houses. Here is a picture of my new neighborhood:
I think they look gorgeous together and have been keeping them on the mantle for everyone to see. They are getting ready to do another round on Craftster so if anybody out there is interested, I say go for it!
My husband and I are HUGE fans of the show "Arrested Development" and miss it greatly...although we do quite often watch the 3 short seasons of it's life on DVD.
I knew I had to participate in the Arrested Development Swap on Craftster and I had so much fun making these goodies for my partner
barbolot
. If you are a fan of the show you will probably like all of these things, but if your aren't you might say, "what the?" HAHA =)
First off, we both love the character Buster, so I made her a Buster Bag which was inspired by the episode titled "Beef Consomme" in which he wears a blue sweater and gray pants to his father's trial.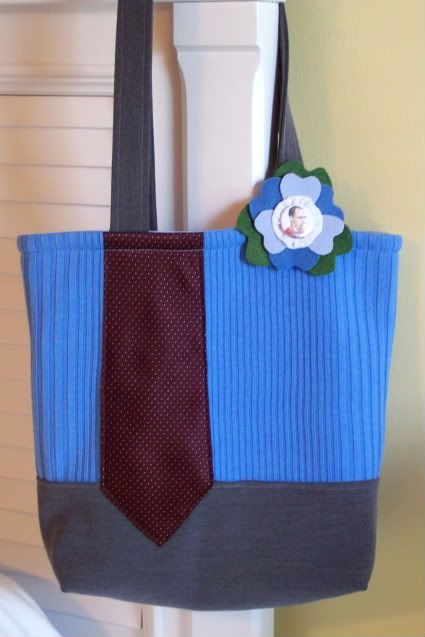 This is the scene in the show that inspired the bag.
MICHAEL: All right, I'll be sure to tell Buster. All right. Bye. (hangs up) Mom wanted me to tell you that she doesn't care whether you live or die, but if you're not dead she would like to see you at the courthouse tomorrow in the blue sweater.
BUSTER: Damn it! I hate the blue sweater.
MICHAEL: She said it would look nice with the gray pants.
BUSTER: Damn it! She's right.
Of course I had to add some sort of flowery thing to it, so I made a felt flower and a little Buster button for the center of it.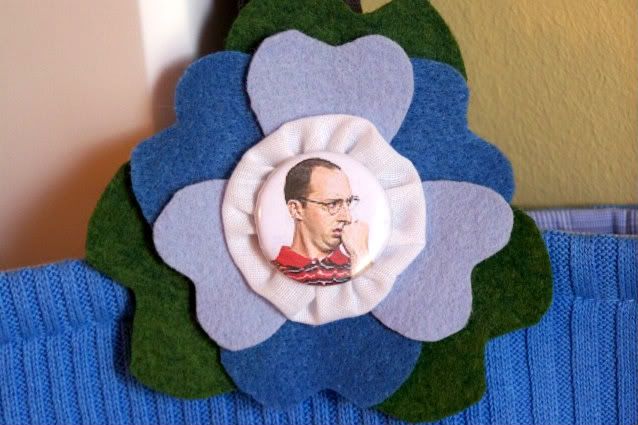 The Bluth family owns a Frozen Banana Stand business so I made her a Banana Stand apron: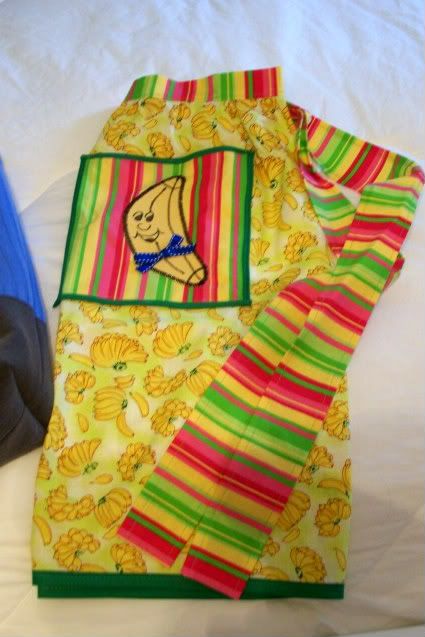 close up of Mr. Banana: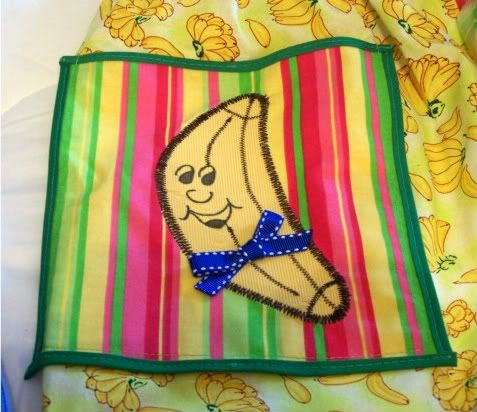 And last but not least, barbolot's favorite episode is "Bringing up Buster" in which a bird gets into Buster's condo and walks across his pillow...he is thrilled with that of course...so I made her a little bird zippered pouch and filled it with candy.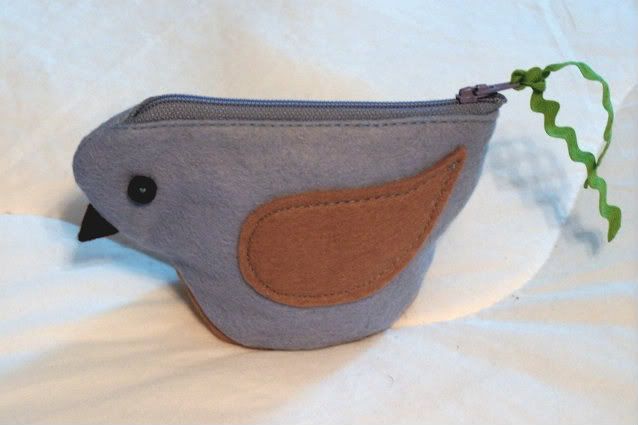 The bird is made from a pattern I bought from
Betz White
and it is so cute in person!!
I just sent the package yesterday, so I really hope she likes everything. =)
Have a great weekend, my baby boy turns 8 tomorrow, 8 is GREAT!! So we will be having some fun this weekend, hope you do too! XO