Teacher Week Day #3
I had purchased a
Tutorial
off Etsy a little while back on how to make patchwork portfolios and had been wanting to give them a try...finally got to do it for the teachers, and had fun making them! Mine aren't the same size as the tut says they will be...I may not have printed the pattern pieces correctly, oops. Anyhoo, they are really easy and quick and turn out super cute!
On the inside I added a notepad, pen and gift certificate to
Artsy Abode
, one of my fave little boutiques for
Brighton
and
Pandora
goodies.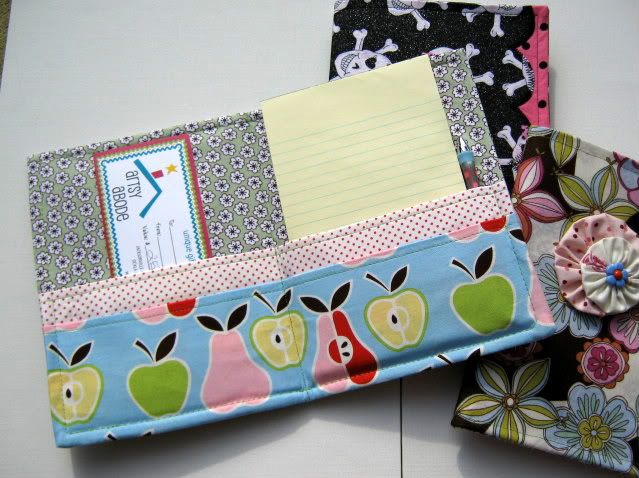 Once I finished the teachers' folios, I quickly made myself one with this adorable skully fabric, you can sort of tell in the pic, but the fabric is glittery too!
With all my required gift sewing done for the week, I am sitting relaxing in the a.c. (It's 93 outside!!) making alterations to a candy pink Blythe wig....one of my
Pullips
is getting a makeover. I didn't think about her head being so much smaller than Blythe...luckily it's an easy alteration. More pics to follow on that subject.
Off to football practice later...ugh